Hostess Carvery

There is no need to advance book for your table however, you may have to wait for a table during our busy times.
On Wednesday evening and Thursday lunch and evening we offer a fantastic Carvery which has lots to offer for every taste. On the Hostess Carvery you will always find at least three roasts with a selection of entrées accompanied with a vast range of vegetables and potatoes.

If this is not enough to choose from then why not have a look at our separate Hostess menu or even our wide range of other meals, along with vegetarian meal choices. We really do cater for every need and taste.

Our Carvery is open on Wednesday and Thursday evenings 6pm until 8pm.

Thursday lunch the Carvery opens at 12pm and last orders are at 1.30pm.

The price for a main course Carvery is £10 per head on Wednesday & Thursday evening 6-8pm.
On Thursday Lunchtime we do a 2 course special offer for £13.

A downloadable example or our Mid-week Carvery

The menu changes every week. Further sample menus are below.

For anymore information on the Carvery or to book a table please call (01623) 843728.

As you see not all Carveries are the same, below are just a few Entrée selections we have offered on our weekday carveries.
Linguine
Hungarian Ghoulash
Minted Lamb Pie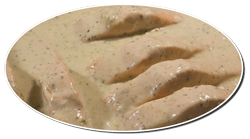 Scottish Salmon